Your Enterprise Resource Planning (ERP) solution needs more functionality to meet the shifting ways in which work is done today.
That's why more ERP service providers are building mobile applications and allowing customers to create their own mobile solutions. Adding flexibility, functionality, and access extends the reach of ERP solutions, allowing them to be used by anyone, anywhere and on any device.
For SAP ERP users, mobility is critical to organizations wanting to support employees and partners who travel for business and need real-time access to information in order to make decisions while away from the office.
At CNBS software, we design and develop mobile applications that integrate with SAP in real-time. Our innovative technology resides directly inside of your SAP environment and allows for real-time communication between SAP and mobile applications. Our SAP mobility solutions let you further streamline workflow and mobilize your workforce while leveraging standard SAP processes.
What Are the Advantages of Mobile SAP Solutions?
Mobile devices have become a de-facto part of our work lives. Smartphones and tablets are common extensions of our laptops and desktops. We rely on them for business and personal use extensively. It's only natural that any ERP software, which is a vital tool for getting work done today, be accessible on these devices.
Here are a few of the core reasons why mobile SAP solutions make sense:
Improved Efficiency:
Taking client notes from the road, transferring those notes to an email and waiting for data to be entered into your SAP system is terribly inefficient. It also raises the possibilities of data error exponentially. Direct entry into your SAP ERP reduces or eliminates mistakes.
Real-Time Access:
Mobile SAP applications let you share and send updates and notifications whether you're at a customer's office, meeting with a potential new client or collaborating with supply-chain partners. Real-time connectivity means you have accurate, up-to-date insights into inventory, production schedules, pricing and shipping information. A sales professional can enter information or orders into their smartphone, laptop or tablet and immediately begin the processing, accounting and scheduling functions necessary to get an order moving.
Better Customer Service:
Improve your customer relations with real-time access to information from anywhere. If you're at a business lunch and a customer asks on the status of an order, SAP mobile apps can provide updates in the moment of need. Want to share insights or customer order histories? Pull up reports on a tablet and answer questions, plant seeds, and deliver better outcomes.
Faster, Accurate Decisions:
For senior leaders who need to make decisions with little advanced notice, customized mobile applications can provide the analytics, reports and dashboards necessary. Giving employees and key decision-makers the real-time information that makes for better and more informed decisions gives your business a marked competitive advantage.
Fewer Delays:
Production delays mean unhappy customers, delayed or lost revenue, and disruptions throughout the organization. With push notifications, key employees can be notified of delays or our production slow-downs whether they are on the operations floor, in an office or in transit. Early notifications mean faster response and tailored resolutions that get production schedules back on track.
Enhanced Workflows:
A mobile SAP solution lets your organization alert users to the need to move processes and approvals along to minimize delays. When employees can review and approve information while away from the office, workflow stays moving and business gets done faster.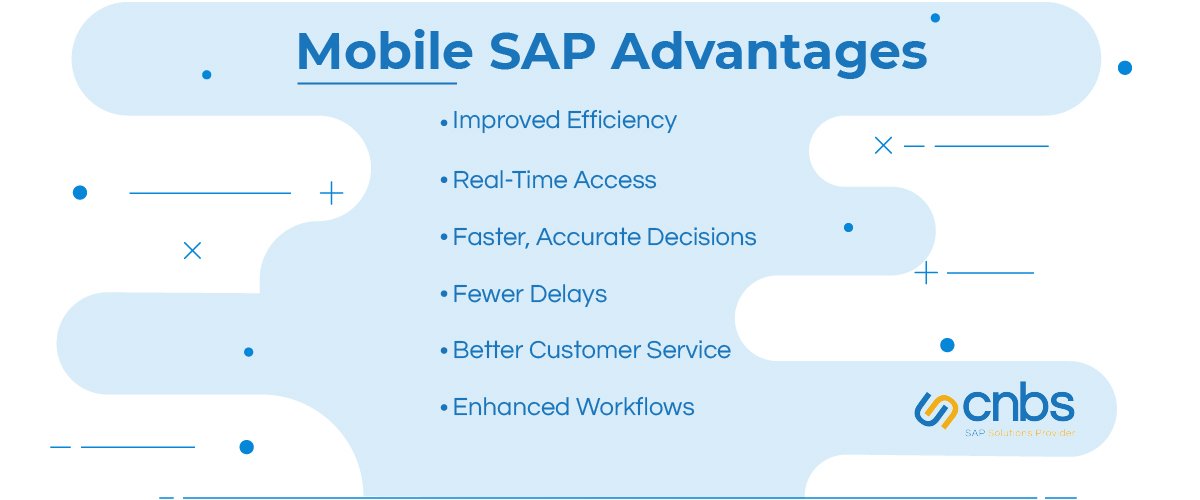 Does SAP Provide Mobility Options?
SAP has introduced a limited number of mobile apps for its ERP products. It has released apps for payment approval, account intelligence, customer financials and sales. In the past year, it has also released apps for Amazon Echo Alexa interface and basic service and customer information.
The challenge for your company is that not all of those apps are available on every SAP ERP product. And they are built broadly to use the most common data sets and applications.
For many companies. that's not enough. You need unique applications that use your data, processes, reports and tools. You need your employees to have familiar screens, interfaces, labels and functions that mirror what they see in the office.
How Do I Decide What Apps I Need?
In order to make informed decisions about priorities and resources, your organization needs to carefully assess the possibilities. Working with CNBS, your company can jump-start the app development process by answering the following:
What functionality do we need? Take time to look at the end user, the business processes and workflows that are in place, and how a mobile app can streamline processes and allow users to do their job better and more efficiently. Would functionality like bar-code scanning and access to inventory information help accomplish these goals?
Who are you building it for? You want to build apps that are designed for the users who need them most. What issues might salespeople, for example, face when it comes to connectivity? Would offline capabilities solve this challenge?
What's the user experience? Be sure to involve your employees in understanding how they will use mobile apps. You need to establish expectations for how and why an app will be useful and gain feedback on the situations in which apps are being used.
Focus on Security. CNBS knows the importance of security considerations with your data. Be sure to discuss your security guidelines, expectations and regulatory mandates to ensure your app is compliant.
What Does CNBS Offer?
CNBS' engineers and consultants have extensive knowledge working with SAP products. For your SAP ERP, we offer countless solutions to meet your specific needs.
Our teams spend the time to understand your unique business goals, needs and challenges. No matter what industry you're in, the size of your business or the concerns you face, our skilled mobile experts can design, build and deploy mobile applications that make an impact on your business. We will make sure your employees are well training in the functionality of mobile applications and troubleshoot any challenges users have.
We offer highly customizable solutions that are built to your specifications. There's no out-of-the-box generic solution. Plus, you'll leverage our extensive experience helping other SAP customers with their needs.
With CNBS as your SAP mobile application partner, you'll give your employees access to SAP with familiar interfaces, design and functionality creating a seamless transition from their desktop computer to a mobile device.
CNBS gives you fully customizable, real-time integration and functionality that empower your employees and drive positive results. To learn more and schedule a demo about CNBS' SAP Mobility solutions, contact us today.