In 2017, consumers downloaded approximately 178.1 billion mobile apps. By 2022, the number of downloaded mobile apps is projected to reach 258.2 billion apps. In short, in today's digital world, mobile applications have rapidly become more than a simple "wish list" item. Instead, mobile apps are arguably one of the most important tools a company can leverage to improve business processes, empower employees to work more efficiently, and to effectively gain a competitive edge.
Mobilize Your SAP Processes
The beauty of a custom mobile app is that it can propel your business to new heights. The challenge is to ensure that your custom mobile app offers a tight, reliable and real time integration with SAP.
In fact, if you want to avoid the lag times associated with data syncing, then you need to implement a mobility solution that not only integrates directly with your SAP, but also accounts for the specifics of the "mobile" world such as small screen sizes, unreliable connectivity and support for a wide range of mobile hardware.
The added benefits of mobilizing your SAP processes include:
1. Highly customizable
From the design, to the look and feel, to the functionality of the actual app, customization is a key. Remember, a mobile solution is designed to help your business reach new levels of success all while running more efficiently. Through the seamless integration between SAP and your mobile app, you not only enjoy the latter benefits, but you may also discover you've increased your workforce productivity (and often... reduced their frustrations)
2. Streamline processes to increase productivity levels:
The digital world is filled with a lot of noise and distractions. Fortunately, a mobile app that is seamlessly integrated with your SAP solution can streamline processes to increase employee productivity levels. Your employees will be able to input data and access the information they need to complete tasks right at the time it is needed, saving time and avoiding rework.
3. Maintain familiarity without introducing confusion:
New technology can be confusing. However, by allowing employees to access SAP with a device that they are familiar with greatly reduces any unnecessary frustrations. For example, you could use your a mobile app to give employees access to your digital sales catalog when they are on the go with access to the most up to date product lines, prices and inventory levels. This results in enhanced customer experience through a simplified sales process that leverages real time inventory and pricing data.
4. Solve your unique challenges:
It's no secret that every customer, regardless of the industry, has a unique challenges they need to overcome. Unfortunately, far too many companies try to implement "cookie cutter" solutions that do little to resolve their actual issues. A good example is ability to use mobile solutions in areas with no network connectivity where many popular web based solutions simply cannot be used reliably. With a custom built, native mobile application that is seamlessly integrated with your internal processes and business rules, you can overcome your unique challenges with an easy to use and cost effective solution.
5. Gain a competitive advantage:
The days of only having local competition are long gone. Instead, the most innovative companies recognize that the right mobility solutions can give them a competitive advantage. From automating processes to saving time, with the help of an SAP integrated mobile app, you can deliver a better customer experience, remain PCI compliant, streamline payments, and run a more cost effective business.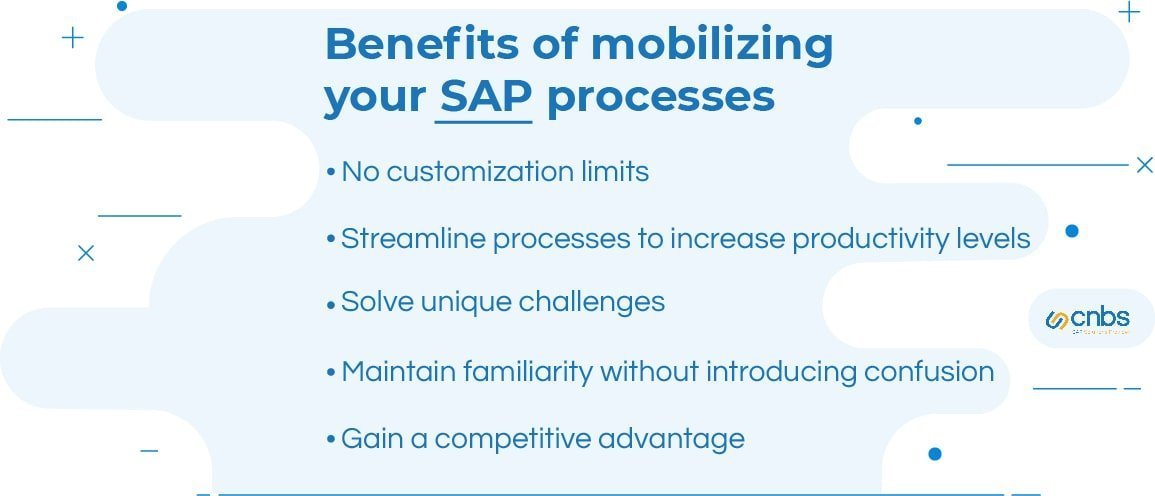 Discover The Mobile App Difference Today With The Help Of CNBS
It's no secret that accessing data in real time is critical to any sized business, across practically any industry. However, far too many companies rely on mobile solutions that aren't seamlessly integrated with SAP, and require workarounds to accommodate specific business processes . Fortunately, CNBS is here to provide a better way ... mobility solutions that are integrated with your SAP to deliver improved capabilities, heightened efficiency levels, and the customization needed to give your company a competitive advantage. Contact a member of the CNBS team today to start the discussion about a mobile app that is integrated with SAP to propel your business to new levels of success.