For nearly a decade, CNBS has been helping customers with software solutions that integrate directly with SAP. Our SAP Solutions are unique because they reside directly inside SAP as a certified add-on. This allows for real-time integration with no middle-ware or data syncing. As mentioned in our last Blog post, CNBS has 3 primary SAP Solutions: e-Commerce, Payment Portals, and Mobility. In this post, we'll take a closer look at the SAP Mobility Solution CNBS offers and the benefits of working with us. We'll highlight the Mobile Application we developed for our client, Royal Cup Coffee, and describe how it works.
What We Offer
CNBS' Mobility Solution integrates your SAP instance(s), in real time, with a mobile application your workforce can use anywhere, anytime. We take only the information your workforce (field technicians, delivery drivers, sales teams, etc.) need from your SAP. We simplify it, customize it, and finally, mobilize it, to give your teams access to the most complete and up-to-the-minute information. CNBS Mobile Solutions are custom built and tailored to the unique needs of each client. By giving your employees the tools that solve their problems 'on-the-go', your business process becomes leaner, faster and smarter.
CNBS' Mobile Solutions are crafted and enhanced by experts in the field. We automate SAP processes. Plain and simple. Every company is different, each having their own set of business processes, and challenges. We individually customize every aspect of your business that you want to take mobile. Each of our mobile solutions are comprised of dozens of apps, packaged into a single application that may be used by various types of SAP users. Access to the mobile apps may be granted by user, or groups of users, and are based on permissions you set up across your organization.
Let's take, for example, tracking and maintaining your inventory. CNBS can create a mobile app to help you streamline the process of counting and logging your inventory regardless if you use bar code scanning, manual counting, or some other method. We'll design a mobile app that makes you more efficient. We've built mobile solutions for warehouses, marketing catalogs, dashboards, SAP process apps and the like. Simply put, CNBS designs a mobile, easy-to-read view of complex SAP data.
Types of Mobile Solutions
Our SAP Mobile Solutions fall under two categories: Process Applications and Dashboard Applications. The first, Process Apps, deal with the back and forth communication of complex SAP data. Our mobile app constantly communicates with SAP, sending information back and forth as soon as you hit a button. Because our solution resides directly within SAP, this communication happens instantly - meaning there's zero risk of data loss and no middle-ware involved. Your information is always 100% secure, and up to date. Although our solution is primarily tied to your SAP processes and their role in Sales and Distribution, the app can be used elsewhere, such as tracking materials, sales orders, inventory, and the movement between these. All are tracked within the Process App we build and your SAP.
The second solution, Dashboard Apps primarily deal with SAP sending data to the mobile application and our ability to display that complex data in a user-friendly fashion. Dashboards are best used for things like managing and creating catalogs to make interacting and viewing easier for consumers and employees. It should be noted there is no communication from the mobile phone back into SAP. Large amounts of complex SAP data can be simplified and shown in a simple, stylish, and user-friendly catalog. Dashboard apps can also be used to provide real-time information about your workforce, such as the geographic location of your field technicians, the status of their service calls, deliveries, and the like. CNBS Dashboard Apps are fully customizable to show only the data most important to each individual user, as well as enabling critical 'on-the-fly' decision-making for your workforce.

CNBS Mobile App Case Study: Royal Cup Coffee
Over the past 100 years, Royal Cup has grown from a small family-owned company to a multi-national distributor of the world's finest coffees and teas. Royal Cup serves thousands of customers in the food service, office, and specialty coffee markets. Royal Cup relies on only the best partners to help stay true to their motto "Serve Them Well." Royal Cup has been a CNBS client since 2013 and leverage all 3 of our products: Payment Portal, e-Commerce, and a Mobility Solution.
The CNBS SAP Mobility Solution for Royal Cup launched in 2017. Their field technicians had trouble accessing SAP, which caused several challenges. 1) There was no visibility as to inventory on each truck. This led to frequent part shortages, resulting in longer repair times and ultimately, lost revenue. 2) The process was manual: inventory was cataloged using paper and pen, and often there were mistakes and inaccuracies on inventory levels, which impacted replenishment cycles. 3) All service orders were manual. We provided easy ways to create and fill service orders; enabled managing local inventory and transfers; and provided clear insight into each technicians' parts and equipment inventory aboard their trucks. 4) Unscheduled maintenance visits were common. With the geo-location functionality CNBS built in the app call times were greatly improved and unscheduled visits diminished. The CNBS Mobile Solution for Royal Cup resolved several challenges for the field technicians. Service workforce business processes were simplified and corrected. Response times dramatically improved, and inventory inefficiencies eliminated. Royal Cup's overall business process became smarter, more connected and streamlined, and easier for their workforce.
How the Application Works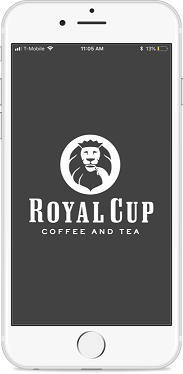 The Mobile Application uses notification screens that appear to inform field technicians about repair jobs, installations, and any equipment requiring replacement at customer locations. The technician has the ability to accept, reject, or delay the notifications. If accepted, the app creates a new service order for that customer. All data is being pulled directly from SAP so there is no repetitive data entry. The technician can perform the work, records the parts and equipment used on each job using the app, and enters the total number of hours spent on site. Upon entering all relevant information for the service call the service order is complete, an invoice is automatically generated along with documentation for the customer. The customer signs the mobile device which provides an electronic signature for Royal Cup, and is sent an email receipt and pertinent order information.
The mobile app also tracks inventory and equipment levels for both the technician and customer. When a technician installs a piece of equipment at a customers' location, the equipment moves from the inventory on their truck to the customer. Our software resides directly within SAP which means the inventory is always accurate. Royal Cup has complete insight regarding where equipment is located at all times. Whether on trucks, at the warehouse, or installed at a customer location. This visibility is critical to Royal Cup because most clients use equipment 'on loan' provided they purchase their coffee and tea supplies from Royal Cup. The mobile application is also used to track customer history, their equipment, number of repairs and types of repairs performed. Royal Cup has an easy way to track equipment that breaks down and can quickly take steps to correct the issue.
Technicians easily track inventory levels on their truck using the mobile app. They can set par amounts for the number of particular parts they need to have with them at all times. If levels drop below par, a re-order of the part is automatically generated. When technicians go on service calls, this ensures they'll always have the parts they need to do the job and increases efficiency.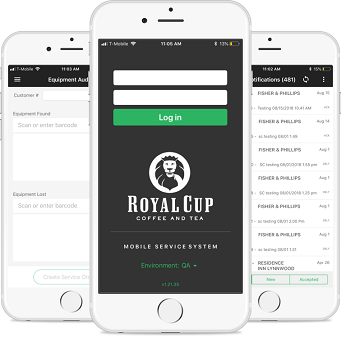 Conclusion
CNBS' Mobile Solutions simplify SAP and provide on-the-go access for your workforce. We customize and tailor the application for your specific needs. We draw upon our vast expertise with SAP and industry knowledge to enable our clients to get the most functionality from their mobile application. Royal Cup is a great example of how mobile solutions can have a huge impact on business processes and workflow. If you're interested in learning more about SAP mobility please contact us.