Increasingly, SAP Enterprise Resource Planning (ERP) customers are realizing the advantages of integration with e-commerce.
Connecting the myriad of functional areas is at the core of the SAP ERP solution. It gives employees a single solution for data, insights and processes. SAP ERP products drive better collaboration, improved efficiency and better decisions across the enterprise.
With integrated e-commerce and SAP solutions, your SAP ERP becomes the true source of all relevant data, extending its collaboration and efficiency solutions to another critical area of your business.
At CNBS Software, we are the exclusive North American value-added re-seller of WECO products. WECO provides e-commerce solutions to companies looking to turbocharge their e-commerce sites. WECO is also a certified SAP add-on provider.
Here are 11 reasons why it's time to integrate your SAP solution with your e-commerce.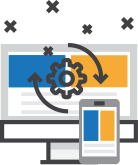 1. Seamless Integration
With CNBS and WECO, your e-commerce solution is installed directly within your SAP environment. There's no middleware to buy, install and maintain. There's also no need to sync data between the two solutions. It's a fully integrated solution that enhances the capabilities of both tools. Because there's no data syncing there's no redundancy.
2. Real-Time Information Sharing
With an integrated solution, information critical to employees and customers is available in real time. For example, customer relations staff can share up-to-the-minute status reports on orders. Salespeople can provide customers with tracking numbers, shipping information and other details. For B2B businesses, accurate information means customers have a better sense of their downstream planning with real-time shipping information. For B2C businesses, consumers can get information from multiple shipping carriers and the status of every item in their order. Customers of all types can receive faster and more accurate shipping information.
3. Customized Design
WECO's e-commerce product is a pre-built solution that's 100 percent customizable. Change the look and feel of your e-commerce pages with no design constraints and a feature-rich platform that adapts to your needs. Your integrated catalog has rich content capabilities, including real-time inventory, multiple images and documents functionality, scale pricing, social media posting, and cross-selling and up-selling. Deploy promotion-specific catalogs and multiple catalogs while giving users product recommendations, best-sellers and last-viewed information. The websites are built with responsive design, working on all desktop and mobile devices, browsers and operating systems.
4. Reduced Manual Entry
Manual entry or re-entry of order or product information is a bane to any organization. Not only is it a resource-intensive process, but it is also rife with the potential for errors in information about orders, inventory, items, customers and shipping. With integrated solutions, the need for entry and re-entry is dramatically reduced or eliminated.
5. Order Entry Flexibility
WECO's e-commerce solution gives your customers multiple ways to submit an order -- search and selection, select from favorites, copy from old orders or pre-defined templates/favorites, or upload from file. When integrated with your SAP ERP inventory module, customers can access real-time inventory information and pick-up locations.

6. Integrated Basket Functionality
The WECO e-commerce solution and SAP ERP ease basket functionality, with fully integrated SAP pricing, real-time carrier and freight cost selection, real-time delivery tracking and single- and multi-step checkout options. Basket integration allows for multiple ship-to addresses and currency conversions.
7. Integrated Accounts Receivable
The integrated accounts receivable functionality allows for real-time open accounts receivable lists, real-time payments and PCI compliance.
8. No New Hardware Needed
With a customized e-commerce and SAP integration, you do not need to buy any additional hardware. The integration is built directly into your SAP platform.
9. Integrated Functionality
With your e-commerce and ERP solutions integrated, you can manage transactions and data across multiple sites, using multiple languages and currencies, with conversion calculations consistent across data systems. You can reduce inventory staffing costs with streamlined and synchronized processes and more accurate inventory levels.

10. Deeper Analytics
With real-time sales information, your company can make better decisions about price and product offerings, responding more quickly to customer demand and changing preferences.
11. Regulatory Compliance
If your business is subject to regulatory mandates, integrated e-commerce and SAP ERP solutions allow for more accurate and timely reports.
Partnering for Integration Success
CNBS delivers full-featured solutions to incorporate WECO's e-commerce with your SAP ERP. Our teams use your existing logic and resources to accelerate implementation, lower overall project time, and improve your return on investment.
Learn more about how CNBS delivers customized solutions that deliver better functionality for your SAP ERP system. Contact us today for a free consultation or demo.